Entries in distributing (1)

Friday, August 5, 2011 at 3:30PM
While our free PDF editor has been used by millions to alter PDF files and fill in PDF forms, a smaller number of PDFescape users have discovered PDFescape's PDF publishing service. This service allows you to upload a master copy of your file to our servers. We provide you with a link which creates a new copy of the PDF form or file each time it is clicked so that multiple users can each view or alter the your published document (without changing the master file or each others copies).
Typically, PDFescape publishing is for those looking to:
(1) Post a PDF form and collect responses via email

or
(2) Distribute a PDF file, but limit access to features in that file (or even the file itself)
Let's take a brief look at how to publish a PDF form in PDFescape:
(1) Log in to your PDFescape account. If you are an unregistered user, you will need to either complete the setup of your account or logout and then register for a new account.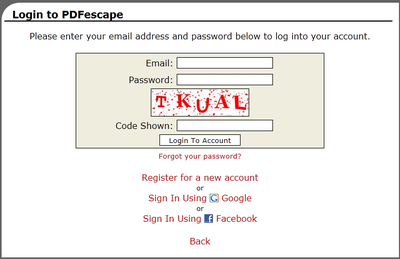 (2) Navigate to the PDF publishing area of your account. There will be a "Publish" icon when in your main account area. If you don't have any "Publishing Credits", click the "Add" button in the upper right hand corner.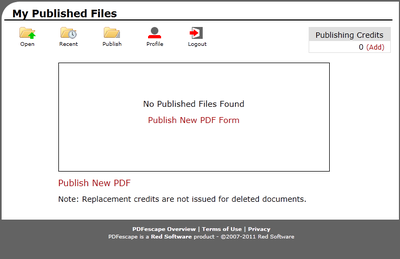 (3) Directly in your PDFescape account you can purchase PDFescape Publishing Credits. 1 Credit will allow a single PDF form or file to be hosted and distributed for one year. There are no per-user, per-click, or pdf-completion fees. If purchasing more than 1 credit, Red Software offers discount pricing. If you are publishing more than 50 files, please contact Red Software for additional pricing information.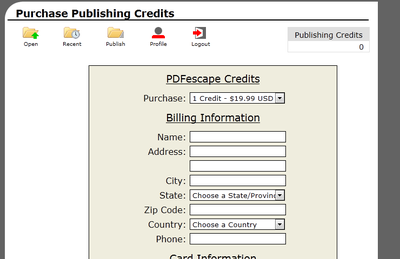 (4) Once you have credits in your account, you're ready to publish a PDF form. Click "Publish New PDF Form" to get started.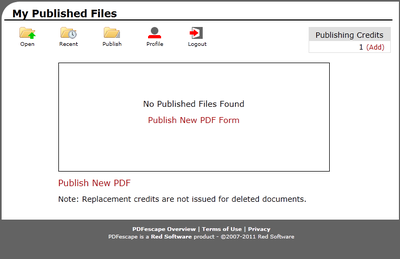 (5) You will then be instructed to upload and publish your PDF form. This will deduct 1 Credit from your account and upload the form to our servers. Please note that once a form is published, it can't be changed, so be sure that the file you're uploading is the form you wish all users to see (complete with all desired form fields, links, modifications, etc.). We recommend opening your form in PDFescape first to confirm the file appears as desired. If you make a mistake, please contact support and we'll be happy to help you out.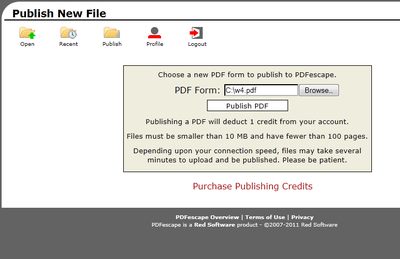 (6) Once your file is published, you will be presented with a wide variety of options including where submitted copies of your form should be emailed to (if you wish users to submit forms to you). You can also limit access to certain features including the editing tools available, downloading of the document, printing, and even text selection. To distribute your document the "Published PDF URL" should be used. It can be used on your website, in emails, etc. and is in the format "http://www.pdfescape.com/published/?...".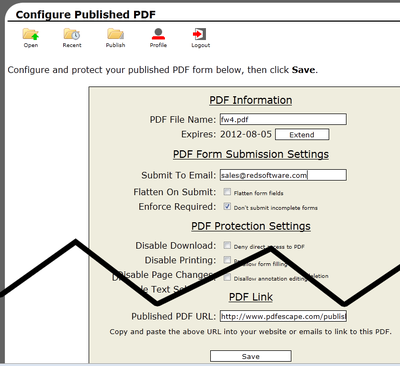 For an example of a published PDF form, see http://www.pdfescape.com/published/?83
tagged

Forms,

credits,

distributing,

pdf,

protection,

publishing
in

How To,

PDFescape